Italian Robotics and Research Champions receive awards at the Rome Campidoglio
The awards ceremony of the sixteenth edition of RomeCup has just ended at the Campidoglio. The multi-event promoted by the Fondazione Mondo Digitale and the Rome Campus Bio-Medico University seeks to advance robotics as the convergence of innovative technology and orient youth towards upcoming professional challenges for sustainable development through robotics competitions (Soccer, Explorer, Rescue, On Stage, Cospace Rescue) and creative contests between schools and universities. Moreover, the Advancing Technology for Humanity. Most Promising Researcher in Robotics and AI Award, presented for the first time this year in collaboration with the Rome Campus Bio-medico University, provides young researchers from university, research centres, agencies and public or private Italian structures working on AI and robotics with a €5000 prize. The winner of the 16th edition is Marta Lagomarsino with European Project SOPHIA (Socio-physical Interaction Skills for Cooperative Human-Robot Systems in Agile Production), which explores the socio-physical interaction between humans and robots to improve productivity and the health and wellbeing of workers.
Marta Lagomarsino (27 years old from Genoa), a PhD student, has a degree in Biomedical Engineering and Robotic Engineering from the University of Genoa. She collaborates with the Milan Polytechnic University and the Italian Institute of Technology (IIT). The 2023 edition received proposals from 135 researchers from all over Italy, active in 21 universities and in 6 research institutions. All the projects addressed a wide range of topics, all very relevant to the issue of "Advancing Technology for Humanity" with the perspective of an E4-Sustainability: Ecological, Energetic, Economic and Ethical-social [see news: Marta Lagomarsino Wins RomeCup Award 2023].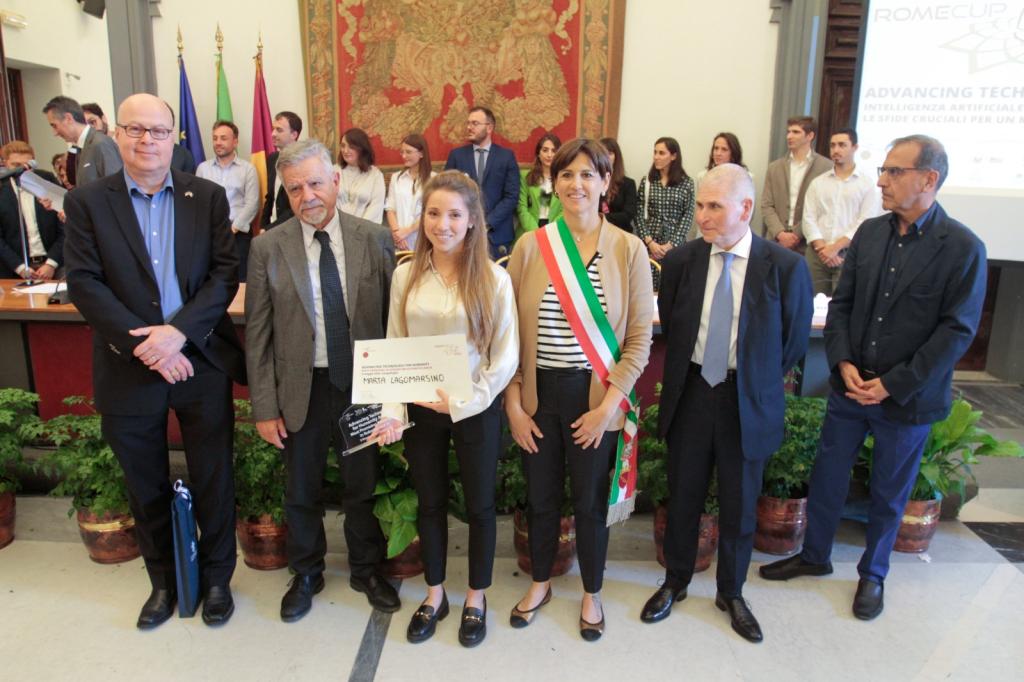 At the end of the final competition phases, which involved 120 school teams from Italy and Malta, teams were also assigned to the winning teams in eight competition categories. The winners of 16th International City of Rome Robotics Trophy:
Rescue Line - Team Roboys - IIS Galileo Galilei - Catania

Explorer Junior - Team ES9K - IIS Cicerone - Sala Consilina (SA)

Explorer Senior - Team Robot Shock - IIS Cicerone - Sala Consilina (SA)

On Stage Preliminary - Team Octopus Story Robot - IC Nitti - Roma

On Stage Advanced - Team Astra - IS Majorana - Avezzano (AQ) 
Top ranking for the RoboCup 2023 National Selections:
Soccer Open League - Team "Go for Broke" - Polo tecnologico Manetti Porciatti - Grosseto (1st Place); Team Carpa - IIS Piazza della Resistenza and IIS Pacinotti Archimede - Rome (2nd Place), Team Ikaro - IIS Pacinotti Archimede - Rome
Soccer Light Weight - Team SPQR 2 - ITIS Galileo Galilei - Rome (1st Place), Team SPQR 1 - ITIS Galileo Galilei - Rome (2nd Place)

Rescue Simulation - Team Fall Itis - IITS Vito Volterra - San Donà di Piave (Ve) in first place; Team "Bob's Brains"  - IITS Vito Volterra di San Donà di Piave (Ve) in second place.
The awards were presented by Monica Lucarelli, Rome City Councillor (Security Policy, Productive Activities, and Equal Opportunities). Also present at the awards ceremony were: Mirta Michilli and Alfonso Molina, respectively Director General and Scientific Director of the Fondazione Mondo Digitale; Eugenio Guglielmelli, Rector of the Rome Campus Bio-medico University; Renato Brunetti, President of the Fondazione Mondo Digitale and CEO, Unidata; Carlo Tosti, President, Rome Campus Bio-medico University; Daniele Nardi, Professor of Artificial Intelligence, Sapienza University of Rome, and Riccardo Corbucci, President, Rome Commission, Statute and Technological Innovation.
The winning teams of the national RoboCup Junior selections, the world robotics championships that will be held in July in Bordeaux in France. The first and second classified in the Soccer Open League will travel to the championships in Bordeaux, while the third will participate in the European championships in Croatia. The first-placed in the Soccer Light Weight will travel to Bordeaux, while the second placed will participate in Croatia. The first and second placed in Rescue Simulation will go respectively to Bordeaux and Croatia.
RomeCup 2023 partners, including patronage by the Regione Lazio and Roma Capitale, include the Embassy of the United States in Italy, the European Commission, Lazio Innova, Google.org, Microsoft, SAP, UCIMU-Sistemi per produrre, and Make Shape. 
Media partners: Il Corriere della Sera, Il Tempo, Fortune Italia.