Alessandra Donnini [since 2018]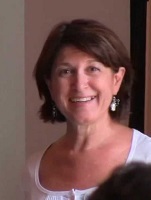 Alessandra Donnini was born in Pontedera (PI) in 1958. She obtained her degree in Information Sciences in Pisa in 1982. She has worked as a software designer in real time and basic software  systems. From 2001 to 2010 she was an external professor at the Engineering Faculty of the University of Rome Tor Vergata. Since 2007 she has been a partner of a software company interested in semantic web, open data and data analysis as well as a consultant for Mibac on the public presentation of catalog data on cultural heritage. She has contributed to the design of portals on cultural heritage, such as the portal of the Via Francigena and the SAN (Sistema ArchivisticoNazionale). Alessandra designed and developed R&D projects on cultural heritage. Together with CINI (National Interuniversity Consortium for Information Technology) she was involved in formalising the corporate processes of large companies. She is a member of the Open Government Forum and the States General of Innovation association. She has actively participated in gender equality initiatives with training on digital and gender data.
Gennaro Sangiuliano [2010 - 2013]
Graduating in Law with a PhD cum laude in Law and Economics, Master's degree in European Private Law, Mr. Sangiuliano is a professional journalist.
He is currently the Professor at the course in "New Media Theory and Technique" at Lumsa University's Faculty of Law in Rome and the course in "Financial Communication" at La Sapienza University's Faculty of Economics.
The author of the entry entitled "The Communication Economy" in the Treccani Encyclopedia, he has published "The Manual of New Media Theory and Technique", Edizioni Scientifiche Italiane (2006), and "The Communication Economy", Albatros Edizioni 2010.
Tullio De Mauro [2001 - 2010]
Born in Torre Annunziata in 1932, Tullio De Mauro is one of the most renowned Italian linguists. Professor Emeritus of General Linguistics at the University of Rome, he has contributed to the knowledge and acceptance in Italy of Structuralism theory with his translation and comment in 1967 on the Course in General Linguistics taught by Ferdinand de Saussure. Many of his works have been dedicated to the study of the Italian language from the years of Unification until today. He has supervised and edited the publication of important lexicographic works, including the Grande Dizionario Italiano dell'Uso (GRADIT) published in 1999. He was appointed Minister of Public Education for the Amato Government in 2000. He continues working with various dailies and weekly magazines. He writes the columns entitled "La parola/The Word " and "Scuole/Schools" for "Internazionale" news magazine. He has held conferences and seminars in universities around the world and in Italian cultural institutes abroad. He has spoken at plenary sessions of international congresses and chaired both the Italian Linguistics Society (1969-73) and the Language Philosophy Society (1995-97). He is a full member of the Accademia della Crusca. He often makes contributions to RAI television and radio programs and RTSI (Radiotelevisione della Svizzera Italiana) radio and television transmission cycles. He has been directing the Maria e Goffredo Bellonci Foundation since 2007 and chaired the Strega Prize for Literature Executive Committee.
He has been awarded various forms of recognition (in 2001, the Knight of the Grand Cross of the Republic of Italy) and various honorary degrees(most recently, from the Sorbonne Nouvelle University on November 10, 2010).