It ended a few weeks ago, but the positive effects of the Hour of Code are still resonating. Schools continue sending us materials documenting all the activities they conducted.
Microsoft and the Fondazione Mondo Digitale organized coding labs, in collaboration with De Agostini, to contribute to the global Hour of Code [1] Campaign, promoted worldwide as part of the Computer Science Education Week (Dec. 5-11, 2016).
Moreover, in these very days, teachers and digital coaches are receiving the "Coding at School" e-book edited by Alberto Pian published by De Agostini (Dea Scuola, Novara 2016).
It was a highly successful initiative. This year, the Hour of Code involved schools in seven cities:
Asti
Bari
Catania
Milan
Naples
Pordenone
Rome
In Rome, 4 schools organised labs that involved 515 students:
IC Largo Oriani - 200 students
IC Via Stabilini - 175 students
IC Via Lazzaroni - 70 students
IC Parco della Vittoria - 70 students
Over 600 students from the following schools participated in the coding labs organised at the Phyrtual Innovation Gym:
IC Viale dei Consoli 16 (primary school)
IC Largo Volumnia (primary school)
IC Parco della Vittoria, plesso Belli (primary school)
IIS Pacinotti Archimede (second-degree secondary school)
LSS Renato Donatelli (second-degree secondary school)
Ita Garibaldi (second-degree secondary school)
LSS Vailati - Genzano (second-degree secondary school)
Throughout the rest of Italy, 14 schools organized coding labs that involved 2668 students:
Istituto Resta De Donato Giannini, Mola, Bari - 140 students
IC Fraccareta, Bari - 50 students
IC Cassano De Renzio, Bari - 340 students
IC Scardigno Savio, Molfetta, Bari -  530 students
IC S.G.Bosco-Manzoni, Sannicandro, Bari - 260 students
IIS Marconi, Catania - 100 students
IIS Falconi Righi di Corsico, Milan - 50 students
IC Paolo di Tarso, Naples - 113 students
IC 42 Carafa Salvemini, Naples - 200 students
IC Carducci King, Casoria, Naples - 45 students
IC 70 Marino – Santa Rosa, Naples - 380 students
5 CD Eugenio Montale, 90 students
Collegio Don Bosco, Pordenone - 325 students
Ipsia Castigliano, Asti - 45 students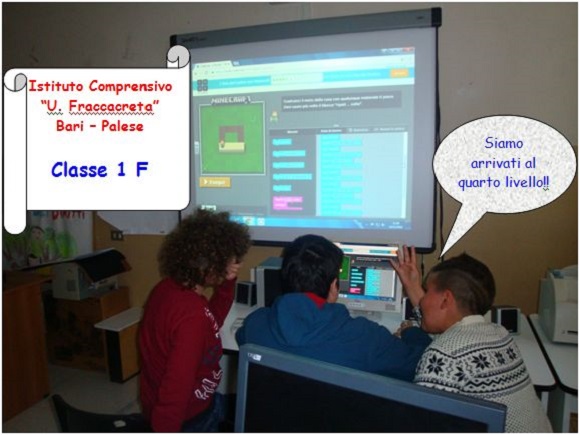 For further information: